[Original title and subtitle in English; Volker Horn]
Our lifestyle is based on a number of precious raw materials obtained from countries in the southern hemisphere of the globe (often, and more specifically, from the African continent): materials such as cocoa, diamonds, gold, oil, cotton, metals for high tech products, etc., are supplied to purchasers at very advantageous prices. Frequently, these goods are the result of exploitative conditions of labour. It is symptomatic of industrial countries of the First World that, in a counter move, they should dump their specially dangerous refuse in Third World countries, and that they should swamp these countries with products of mass consumption.
The footsteps or traces that refuse leaves internationally, are the subject of the art project of theSYNdicate: how countries deal with refuse in different parts of the world; the global cycle of refuse; the dimensions of European refuse in Africa.
Transport routes of primary products as well as of finished consumer goods cover long distances, in this globalised world, with many stages, and with goods passing through many hands: sometimes transported goods describe a cycle, other times goods travel in a more one-dimensional perspective.
At the end of a cycle, for example, a number of high quality goods from the southern parts of the world land in Europe, to be sold at high prices, with a hefty profit margin – which drives turnover and stock exchange assets. African countries (and other continents and countries with similar social and economic conditions) are the destination, the recipients, of refuse: the results of agrarian over-production, electronic junk, garments (often second hand clothes), and many similar goods. In this cycle, the places that are the countries of origin (right at the start of the cycle), are left mainly with refuse and package material. Africa – the First World's testing ground or laboratory, and self-service shop.
To explore these socio-economic processes, artists that are members of theSYNdicate will, in the autumn of 2009, travel to Lagos, Nigeria, in a 'refuse vehicle'. Before they leave, the inhabitants of Graz will be encouraged to depose 'refuse for Africa' at the city's main square (Hauptplatz), where artists will be waiting with their transport vehicle to receive these donations, and to catalogue and document them. The journey will be about ten thousand kilometres long: in its European section, more refuse will be collected.
In keeping with the style of multinational companies (in an economy that is the subject of this research), members of the public can use the internet to buy shares in order to participate in the (supposed) expected 'profit' of this undertaking, of this TransAction. Shares entitle their holders to receive 'dividends' in the shape and form of dated and signed samples of refuse from Africa.
In Africa, refuse will also be collected, catalogued and documented by theSYNdicate team, in the same way as in Europe: this time, however, small units are to be sealed in plastic foil, numbered, given an exact description of the place where found, and thus defined as art objects. One sample per place (or per stop-over) is laid aside, as a 'dividend' for shareholders.
At the same time, in a parallel development, the theSYNdicate team will attempt to define a scale or measuring-rod to evaluate our (European) refuse – and to dispose of our refuse in the most profitable way possible, by 'selling' our refuse in local markets. Artists from theSYNdicate in their role as waste disposal workers and as agents of art, dressed in 'trash design' [English in original], will bargain and interact with the local population. Once the market value has been established, in the shape of a sum of money agreed on, the European specimens of refuse are exchanged for a photograph and a statement made by each 'customer'.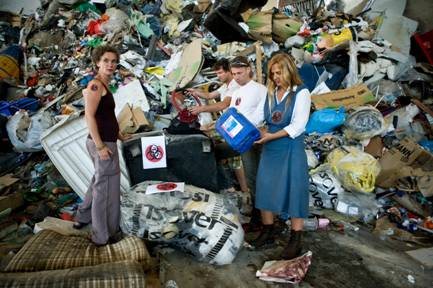 To analyse rural as well as urban product cycles, interviews and talks will be held to find out what the local (and also linguistic) definitions of 'refuse' are, together with interviews to be arranged with ministers or secretaries of state for the environment, in the countries that the team will pass through en route: Senegal, Mali, Burkina Faso, Ghana, Togo, Benin, Nigeria.
Refuse as a storyline and as a method to do research into global socio-economic conditions, in real life. The final destination of this artistic 'search for a treasure trove' is Lagos, the Nigerian mega-city, which – with its more than ten million inhabitants – is one of the world's biggest cities, a nodal point in African trade, and an interface with Western industrial states.
The course of the journey can be watched and 'accompanied' in a weblog. The treasures found will be given exact geographical co-ordinates and local details that can be gleaned from the internet: these details will also relate to real-life points of reference and give advance information on the places of origin of the hoped-for 'dividends'.
Once returned to Graz, the plan is to hold a fairly large meeting of shareholders, where packets of refuse will be presented.
Subsequently, a themed catalogue will be published, with analyses of the different types of refuse in their respective socio-economic contexts, along with theoretical texts on the economy, ecology, refuse art, and the cultures along the route. Exhibitons are planned to be held at Vienna, Graz, Lagos, and in other places.
Stefan Schmid, Klaus Schrefler, Eva Ursprung